Sometimes poetry can make fun of itself and be an opportunity to be ridiculous!
 Dangerously Poetic embraced this with their Madhatter's Poetry Tea Party last Sunday.
 About 65 poetry lovers of all ages gathered to listen and share.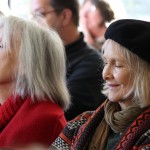 Our pop-up poetry idea is to find varied venues and fresh themes to keep the poetry vibrant with plenty of pleasant surprises.  This time it was with silly hats and props and lots of yummy food served by the Bangalow Heritage House.
We were treated to the richly textured poetry, eliciting both tears and laughter, of two eminent visiting poets, Ross Donlon from Melbourne and John Carey, from Sydney.
The Three Little Sisters and Cecile and Gabriel brought down the house with their harmonies.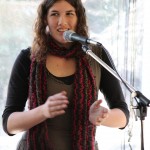 And what's the deal with the Poetry Lamb? Many were asking about this invented
form of poetry slam.  These lambs were not led to slaughter but applauded and encouraged to share their words.  We hold these "Lambs" when we have visiting poets who agree to judge them.  We appreciate poems that work both in performance and on the page.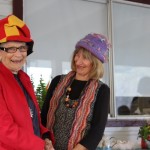 Much thanks to Zoe Phreo for sharing these photos of the event.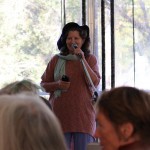 GIVE POETRY A BAD NAME
May your poems run away from home
and live between the lines
May they break and enter, assault and batter,
and loiter in the mind with intent.
May they invite the critics for dinner
and leave before the main course.
May they put a hand up the Muses skirt
(only to find Robert Graves hand already there).
May the dying be anointed with them
and the living vaccinated against them.
May they walk in our sleep
and talk while we are talking.
May they leave understains on the memory.
Roger McGough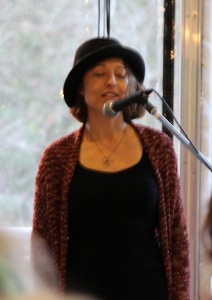 ---
Comments are closed.