Have you ever been snorkling when a school of silver fish flickers by in formation and without a choreographer, arcs as one and flows in the same synchronized pattern in the opposite direction?  The process is a verb, they are "schooling" and that is similar to what happens when an audience is entranced by a performance, so that their breath and even heart beats entrain.  The silence and depth of listening is  palpable. This shared attunement connects a community of listeners and uplifts them.
A kind of ordinary miracle in fact…
This is what I experienced as the poetry lovers and poets joined together on Saturday afternoon at the Byron Bay Writers Festival for the celebration of the winners of the 2013 Dangerously Poetic Byron Bay Writers Festival Poetry Prize on the theme, Ordinary Miracles.
We settled in to listen first, to the melodious songs of Mel Dobra and guitarist, Joshua Arent.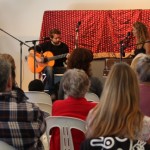 The music helped the audience drop into themselves. We opened our ears to the kind of deep listening required for music and poetry.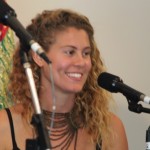 "Would you stand here as I do, Sylvia, dizzy with metaphor/watching the bees swooping on the breeze…"
                                                                   —from Requeening, Cate Kennedy.
Cate Kennedy spoke of the power of metaphor to touch our intuitive brain, how metaphors are etched like pictures in our memories. These were evoked as she read poems from her latest collection,
The Taste of River Water
, which won the Victorian Premiers Literary Award. Outbursts of applause and sighs of satisfaction were heard as each poem skilfully eased to a final heart-stopping line.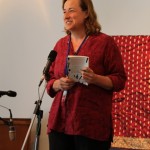 She pointed out the metaphors that touched her in a collage from poems she loved as the Judge of the poetry prize and spoke of the near impossible task of choosing only 2 winners from 251 entries.  Her judge's report will be posted in its entirety on this website shortly.
Then came the announcement and handing over of prizes.  First prize for Owen McGoldrick from Pottsville for his poem, Little Boy Muse, and second for Lisa Brockwell from the Pocket for Thirsty.
 These were beautifully read to great appreciation from the audience.  We wound up the afternoon toasting our winning poets with champagne.
 A lovely event but more than that, it fulfilled our ongoing mission of community building through poetry.
 Special thanks to
Zoe Freo
for her poetic photos. For more: check out the Dangerously Poetic facebook page.
---
Comments are closed.