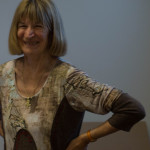 Some of us were fortunate enough to witness Bev Sweeney's stellar performance last Friday at the launch of her first poetry collection.  Many might not know that poetry began arising for Bev about 13 years ago when she was doing journaling to help herself work through repressed abuse memories.  This initiated her interest in poetry and she became a founding member of Dangerously Poetic Press.  It took all those years to learn to craft these journal pieces into public poetry but the whole process has given her the confidence and skill to write and perform her work in the community.
         Of this odyssey, Bev says, "It's time for the shame that accompanies so many people in my situation to be well and truly discarded. My book does not dwell on the bad times – it is more a reflection on family, community, nature, faith and of course . . . dancing."
        Of her collection, New Brighton poet, Max Ryan writes, "There is a quiet strength in these poems, words forged in the fire of long experience."
        Bev asked me to launch the book and I was delighted.  In case you  missed it, here is my speech…
        A book launch is a kind of baptism. We're gathered here to honour this newborn, to bless it and send it forth into the world. I've been privileged to watch the evolution of these  poems and of Bev's growing assurance as a poet over these past 13 years. I've watched her commitment to her craft and willingness to bear witness, to find the most effective language to make meaning out of her lifetime of struggle and joy—which is what a poet does.
          "A whisper of silk threaded with steel," is Bev's description of a ballet dancer and it could also describe Bev.  She's courageous enough to be vulnerable on the page.  With no sentimentality, she explores family ghosts; the  WW1 soldier-grandfather and her father who spent the second WW as a plumber, her grandmother turning a blind eye to abuse, her mother holding in all the family secrets offering only "snippets".
         Bev dares to invoke memories of abuse with a deft touch that reverberates deeply but at the same time— offers hope and healing. And through out, there is the dancing. Bev was a dancer in her youth and has been a qigong teacher in the area, which is a slow deliberate dance and a kind of prayer— as these poems are a slow deliberate dance and a prayer on the page.
         Through Bev's clear eyed examination of her experiences, our own lives are more deeply informed. For when we read a poem that resonates and we hear language we might have chosen ourselves, had we but found the words, the poet is giving our lives back to us and we will never know ourselves the same way again.
        These are contemplative poems with fine attention to detail. Bev's poem My Mother's Nighties, which won the Victorian Cancer Council Arts Award, speaks of ordinary laundry but evokes her mother's nighties on the line as a metaphor for their changing relationship and her mother's impending death. She ends the poem with this stanza —
" On my line
by the warm brick wall
I peg her nighties.
Filled by spring breezes
they flap and twirl
in a floral dance
until— as the day wanes
I reach for them where they hang
flat, drained and still."
         As you can see, even the nighties are dancing!
        This book is wrapped up in the exquisite art work of Nathalie Verdejo- notice how the light dancing image fits the collection. As you're probably aware, the cover can make all the difference in marketing a book.
       Special thank you to Nathalie for letting us use her artwork as the cover.
        Bev was a founding member of Dangerously Poetic Press and has been our stalwart treasurer –of this hardworking volunteer committee, which is how we continue to have funds to publish. This is our 12th collection.
         I encourage all of you to take home your own signed copy of this newborn and to absorb the years of fine-tuning, focus and care that went into crafting these poems.
          Please join me in blessing this book and its passage into the hands of all who will be nourished by it.  Congratulations Bev!
         Books are for sale through
pay pal
on this site.
Dangerously Poetic Committee at Bev's Launch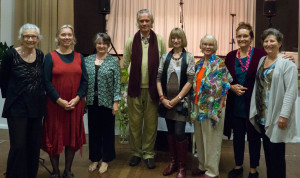 ---
Comments are closed.