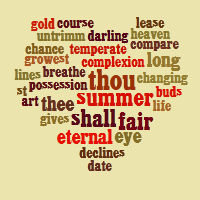 Advertisers exhort us to change our lives while the speed of technological, even political change is breathtaking. I used to ruminate about my grandparents lives, thinking that never before in history had people experienced so much change in one lifetime. Born in the 1890's, they witnessed the first automobiles, electricity, radio, film, TV, telephones, not to mention two world wars. But now I  look at my grandson, born in the 1990's who watched the internet grow, Google and all the attendant changes in his brief lifetime.
There are personal changes, global changes and of course, climate change. For me, 2015 has been a year of deliberate change. When in doubt about doing something, I am choosing the opposite of what I usually do.
Change is the broad topic we chose for the Dangerously Poetic Byron Bay Writers festival poetry prize.  We invite poets to refresh our imagery, ideas and language in response to it. The deadline is coming soon. 15th May.
Looking forward to hearing the winning poems.
Good Luck!
Here is a poem by Bev Sweeney from her recent collection, Pirouettes & Prayer on the theme.
Mullumbimby Makeover
White stockings,
hook shots and foot faults,
she said Yes
to lawn bowls,
cups of tea,
the gardening club,
an exercise class.
We couldn't believe it
when Mum said Yes
to the big shift.
They're different in the country
she said,
In the street they smile
say hello
even the young ones.
She said Yes
to her first solo trip,
a bus tour heading West,
ancient riverbeds,
sunsets flooding giant skies.
Yes to the shudder
of the catamaran
as it rode the Indian Ocean.
After her funeral
she reappears in my dreams –
pith helmet over sweaty brow
hacking through the  jungle
rugged up on Everest
binoculars in hand
at the window of a spaceship
shooting happy snaps of the stars.
---
Comments are closed.