Our event at the 2016 Byron Writers Festival was well-attended despite the weather and we were treated to music by Kim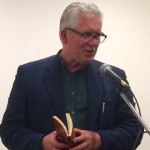 Banffy and a twenty minute reading by Anthony Lawrence, author of 16 poetry collections.  Anthony generously agreed to be the judge of the Dangerously Poetic Byron Writers Festival Poetry Prize which attracted 111 entries from every state and territory.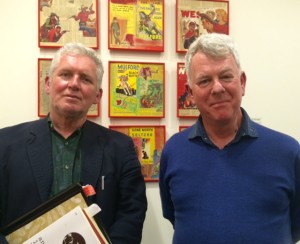 Anthony presented the second prize to Gail Willems of Perth who was unable to attend. About the poem, he said,  'Map Reading' is a curious reading of topography and emotion. A clever poem whose lines and line-breaks define its rhythm without formal punctuation, it suggests the hidden spaces and places in our lives where imagination is the only true compass.
photos of Anthony Lawrence and Mark Roberts by Vivien Royston
The first prize of $500 and a 3 day pass to the festival went to Mark Roberts of Sydney.
Anthony's comments were as follows: 'Perfume' moves like frames in a sepia-tone, grainy film. Its story suggests intrigue, death, rural myth or local history, in a time of war.
First and third person points of view combine in clipped, lyrical stanzas to create a miniature novel in which mystery and allusiveness are palpable.
Read these poems here!
First Prize- Mark Roberts
perfume
                                                she heard him
                                                an instant before
                                               the scarf pulled tight
                                                against her throat
the train to lithgow
settles into a metal song
reassurance of steel on steel
                                                her arm  swung around smashing
                                                the perfume bottle to the floor
last night I smelt a ghost
sweet & alluring
flowers, orange
a suggestion of earthiness
    wartime
                                                he will be shipped out
                                                before
                                               they find the body
a ripple of iciness
flowing up the bed
my eyes closed
but awake
colder now
than a bathurst winter
left behind in the pub
next to the station
waiting
2nd  Prize  in Byron Bay Writers Festival- Gail Willems
MAP READING
he tore up the map
I watched it slide behind lost eyes
full stopping roads in his head
he hums in my hands
defies all of my abilities to orchestrate a wholeness
we sit in a dead end
the edges of names wait for him to navigate his own map
take us home
Someone's going to look    see the crawling space
bleeding at the edges of memory
x-ray spaces where we can erect a picture board
a bulletin board    I'll post faces and places
where you wandered off the track
directions    signposted at the edges
crawl closer create a nothing
expand  exponentially
look for the hum in the spaces    it will be me
---
Comments are closed.