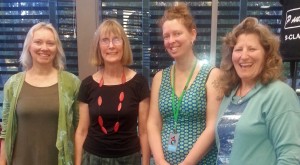 Heather Taylor Johnson, centre, judge of our 2017 poetry prize and beside her Nola Firth, first prize winner from Murwillumbah.  Laura Jan Shore, far right, and Grace McKenna on the left.
We've had our competition and now we open the call for poems on the theme of truth and lies for all paid up members of Dangerously Poetic.  Please download the entry form below.  This time we do want your name on your poem!  Also, poems can be previously published elsewhere. DEADLINE EXTENDED TO 15 JANUARY!
---
Comments are closed.