April 12, 2014 |
Uncategorized
|
Comments Off

on Celebrating Poets and Community
Poetry is about connecting and in this area, Dangerously Poetic Press makes it our mission to use poetry to bring people together as community. The words touch us in our tender places and remind us of our common humanity.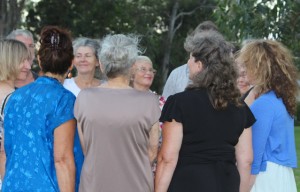 About 70 people came along last Friday to celebrate the launch of Dangerously Poetic's 11th publication, Salt Breezes, poetry from Byron Bay and beyond.  
As poet Ross Donlon says in the foreword;  "If a very simple definition of art is that it helps us to see the world a little more clearly and to experience the world with a little more profundity then here is a collection from the 18 poets that will surely add to our sense of being alive."
Held at the Brunswick Heads Primary School, the audience savored the singing of Mark Heazlett on guitar  and Belinda McKenzie on fiddle. Music creates the atmosphere of deep listening, preparing the audience for the lyrical language to come.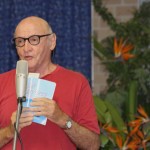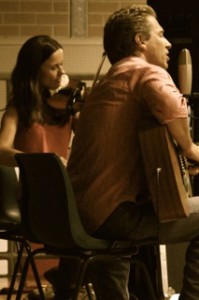 Award- winning  historian and author, John Bailey praised the collection in his launch speech. He found the poetry "moving and accessible" and especially enjoyed the descriptions of familiar local landscapes.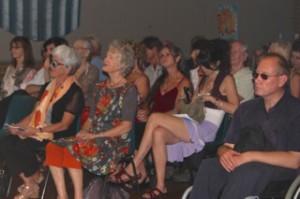 Sixteen of the eighteen local poets featured in the anthology attended the launch. Fourteen of these read in a tightly orchestrated performance, each poem thematically connecting to the next.  To enhance our skills at performing our poems, we did warm ups with Kathryn Riding, a talented voice teacher from Brunswick Heads.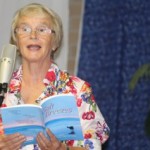 There was laughter and tears as the readings progressed with a great clamor to purchase copies of the book at the end.
With toasts, and fine food provided by Liz Jackson of Celebrations Catering, there was a warm appreciation of the many talents shared in the Northern Rivers community.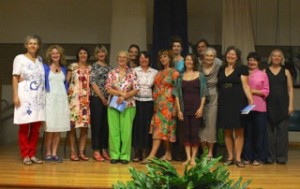 Salt Breezes is available for sale at the Mullumbimby Bookshop and through paypal on this website.