April 12, 2014 |
Uncategorized
|
Comments Off

on Celebrating Poets and Community
Poetry is about connecting and in this area, Dangerously Poetic Press makes it our mission to use poetry to bring people together as community. The words touch us in our tender places and remind us of our common humanity.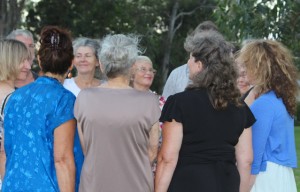 About 70 people came along last Friday to celebrate the launch of Dangerously Poetic's 11th publication, Salt Breezes, poetry from Byron Bay and beyond.  
As poet Ross Donlon says in the foreword;  "If a very simple definition of art is that it helps us to see the world a little more clearly and to experience the world with a little more profundity then here is a collection from the 18 poets that will surely add to our sense of being alive."
Held at the Brunswick Heads Primary School, the audience savored the singing of Mark Heazlett on guitar  and Belinda McKenzie on fiddle. Music creates the atmosphere of deep listening, preparing the audience for the lyrical language to come.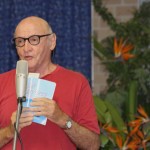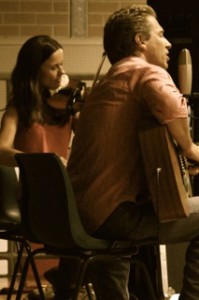 Award- winning  historian and author, John Bailey praised the collection in his launch speech. He found the poetry "moving and accessible" and especially enjoyed the descriptions of familiar local landscapes.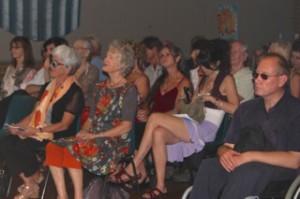 Sixteen of the eighteen local poets featured in the anthology attended the launch. Fourteen of these read in a tightly orchestrated performance, each poem thematically connecting to the next.  To enhance our skills at performing our poems, we did warm ups with Kathryn Riding, a talented voice teacher from Brunswick Heads.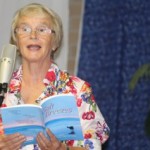 There was laughter and tears as the readings progressed with a great clamor to purchase copies of the book at the end.
With toasts, and fine food provided by Liz Jackson of Celebrations Catering, there was a warm appreciation of the many talents shared in the Northern Rivers community.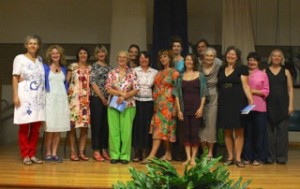 Salt Breezes is available for sale at the Mullumbimby Bookshop and through paypal on this website.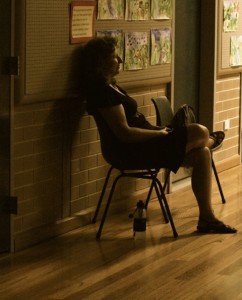 January 29, 2012 |
Uncategorized
|
Comments Off

on Family Reflections after the holidays

Had a big dose of family over the holidays?  Think of it as writing material!
While I didn't see my relatives this year, I spent time sorting through old photos and letters. One     grandfather was handsome in the tiny black and whites as a WW1 flying ace in France. There is a portrait of him as a Colonel in charge of an airport in Africa during  WW2.  The other grandfather emigrated to the US from the Ukraine at age 12 and worked his way through law school. Two very different personalities and yet each sported a moustache and ended his days pinching the nurses and flirting. Scratch the surface of any family and you find a narrative.
Rainer Maria Rilke asserted that there are two inexhaustible sources for poetry: "dreams and childhood."
I would suggest a third: the family. We all have them, relatives both near and distant, family myths and legends.  Writing about these characters helps us to understand and feel compassion for their idiosyncrasies.  Faint memories sharpen into focus and a new comprehension evolves.
Writing about my relatives has challenged my assumptions about them, especially when I try to write from their point of view. I notice each has left me with a message about life. My grandmother always noticed suffering in the world and suffered herself with cancer for many years. At her funeral, I heard her voice in my head saying, The suffering ends here. I took it to mean her suffering but also mine.  I heard a woman say once, Pain is inevitable. Suffering is optional.  This is what my grandmother's life taught me, but how to show this in a 40 line poem?
My Russian grandfather dropped his bravado and masks and we genuinely met for the first time a day before he died.  I realized all he ever wanted was love but he did everything to push it away.
The process of distilling these experiences into poetry has taken years.  Each fresh draft emphasizes different aspects of a complex relationship.  The poems begin as private and personal. I must find a way to use the particular to express the universal so they become public poems. It requires being an objective witness without letting my emotional bias through.
Poetry Prompt:
"There is no greater agony than bearing an untold story inside you."
Maya Angelou
What stories weren't told in your family?  What is your story to tell?
Think of a relative from your childhood. What did he or she smell like?  What was his favorite food?  How did this relative dress? Picture the person walking towards you. How did he/she move? Any distinctive mannerisms? What did his or her voice sound like? A favorite expression?
What gift did this person offer you?  Just jot down images and associations.   Let these steep in you until a refrain or line begins to open it as a poem.
I will be sharing a collection of my family portrait poems on Friday, the 10 of Feb. at Ewingsdale Hall at 7 pm.
I also invite you to join us for a 5 week workshop on writing family portraits commencing Friday the 17th of February from 9:30 -12:30 in New Brighton.
December 17, 2011 |
Uncategorized
|
Comments Off

on Community Poetry on the verge of 2012
"I am signaling you through the flames.

The North Pole is not where it used to be.
Manifest Destiny is no longer manifest.
Civilization self-destructs. Nemesis is knocking at the door.
What are poets for in such an age?
What is the use of poetry?" Lawrence Ferlinghetti from  Poetry as Insurgent Art
We are approaching the long-heralded 2012 and what can we as poets and poetry lovers offer a world on tilt?
Here is what we did this year:
Dangerously Poetic kicked off  2011 with Rumble with the Spirit,  mystical poetry to lift the heart, featuring Kathryn Riding and Elyjah  Mcleod and the choir, Mystica.   This was a benefit reading for the Queensland Flood Relief and we collected $613. for the fund .
And to further nurture the spirit, we offered the playshop, Day Spa for the Soul encouraging spontaneous expression through art, movement and writing.
We also initiated the Dangerously Poetic Writing Circle offered each month on the second Weds. at Wheel of Life in Brunswick Heads.  This has become a popular gathering to stimulate new poems and fine tune ones that are already in process. At just $10/8 for members, it is affordable and a great opportunity to keep the poetry flowing.
Our next reading in Brunswick Heads was on the theme nature and our place in it— exploring our evolving relationship with a changing planet and we called it Mud between the toes. We invited garden club enthusiasts and members of local environmental groups to bring along a poem about nature that inspires and sustains them.  Featured readers were Laura Jan Shore and Elvyn Dear.    With both original tunes and standards,  we enjoyed singer Shelly Hughes accompanied by Dan Brown.
There was an extended open reading  on the theme, so many came forward to share their favourite poem.
Warm Winter Words was another benefit reading, this time for the Mullumbimby Soup Kitchen run by Kristina.  We had a good line- up of music and poetry held at the St. John's Catholic Hall.
Kristina provided hot soup and other treats for sale.  The Hottentots and Chelle Lynton, Mark Heazlett and Cass and Elyjah all offered their beautiful music. Susan Hayward, Paul Pritchard, Mandy Morris, , Victor Marsh, Christo Barrett-Hall and Sundari  were among the readers.  Close to $2000 was raised in total  for the soup kitchen!
We followed this with a one day retreat, Embracing The Wind, nourishing our connection to nature and our place in it. We relaxed into the sounds of nature, music, and beautiful words. And we enjoyed simple Qigong movement led by Bev Sweeney, with mindfulness moments and journaling. It was a time to sit in a nurturing circle— to breathe the earth.  Inspired by this session were poems that were later submitted to our anthology which will be published in the new year.
Meanwhile, we applied for and received a grant from  The Sidney Myer Fund for a tent to be used as a poetry chill out tent at the Byron Bay Writer's Festival. Our vision which was to give poetry a bigger profile at the festival was well and truly manifested.
As there were no plans for a poetry competition this year at the festival, we asked if we could co-sponsor one with the NRWC.  This was agreed upon and we received a full selection of poems on the theme of Spirit of Place,  nature and our place in it.  This coincides with our anthology theme and we offered to publish the winning poems in the upcoming anthology as well as offering a cash prize of $500 for first, and $250 for second. Robyn Rowland served as our judge.
At our poetry chill out tent, we provided an intimate space for poetry to flourish.  One poet called it a "sanctuary" and another an "oasis".  The gentle music offered a welcome short break from words for many of the participants as well as the poets and writers who presented elsewhere.
We had many unexpected surprises.  Poets  stopped by and were eager to be slotted in for a half hour reading. Alison Wong, Teresa Bell, Robyn Rowland, Lorraine Marwood, and Libby Hathorn did half hour readings to audiences that ranged from 15 to 35.
At times, the tent was spilling out into the sun and other times were quiet.  Many enjoyed the free shoulder massages, aromatherapy and a place to write passion poems.  We put the winning poem on our site.
Most popular was our 3pm Open Reading each day and the quality of poetry read was refreshing.
We also ran a Sunday morning  poetry reading.  This attracted more people than we expected with all the competing events at those times.  We had great feedback about The Songbirds and the chance for 3 festival poets, Susan Bradley Smith, Edwin Wilson and Robyn Rowland to read more extensively than elsewhere.  Also our 2 award winners for the DP/BB Writers Festival prize were there to read their poems.
In November, Dangerously Poetic co-sponsored the launch of my book, Water over Stone, Interactive Press at the Primary school in Brunswick Heads.  Sarah Armstrong did the launch speech. With guitarist Mark Heazlett, I did a performance of "Family Portrait Poems," from the collection followed by a feast catered by Kristina.
In December, our Christmas Party reading featured three Interactive Press poets with new books, publisher David Reiter, Geoff Page and myself.  The visiting poets served as judges for our popular poetry lamb.  Ten contestants read their original poems and a winner chosen for a $50 prize.  Again, Kristina outdid herself with delicious food and we toasted with champagne.
So what is next for 2012 which happens to be the 10th anniversary of the incorporation of Dangerously Poetic?
We have been finalizing the manuscript for our 10th book, Wild Honey, poetry from Byron Bay and Beyond, an anthology featuring 20 poets which we intend to launch by early March.
We hope to continue our process of meeting in different locations as we find it enables more people to come along and enjoy poetry.  The popular DP Writing circle will continue in Brunswick Heads.  More workshops and gatherings will undoubtedly be organized and more benefit performances as they are such fun and successful fund raisers.
We have certainly proved over this year that poetry can be a needed solace and of great benefit to the community in difficult times and good times.  Our vision is to continue offering community experiences that nourish and uplift the spirit through poetry.  Hope you will join us!